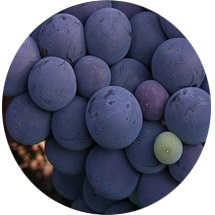 BOBAL
It is a very austere vineyard resistant to the inclement weather and plagues except for mildew, its worst enemy, but at the same time is a very productive vineyard. Its grain is medium, sized, spherical and juicy. This variety is responsible of the production of our excellent rosé wines, but also of increasingly used for Reds and aged wines.
Its main feature is its intense cherry color, slightly alcoholic, fruity, with fine tannins and high acidity... We have decided to bet on the native grapes; therefore, we encourage you to try it...
GARNACHA TINTORERA
It is from our latest acquisitions.
It is one of our latest acquisitions. The cluster is small, short with conical shape. Its berries are medium in size and spherical shape. Its pulp is colored, which is used to give more color to the wine. The color of the skin is blue almost black.
The wines of this variety are robust, with lot of tannins and a vegetal and bitter finish, balanced between acidity and alcohol.
By adding this variety, we intend to give a personal touch, more color and power to our wines.
TEMPRANILLO
The Spanish grape par excellence. This variety is cultivated for the production of our full-bodied Red wines, especially our aging and structured wines. This variety is characterized by having a thick skin. Our high location, 700 meters above the sea and our proximity to the Mediterranean sea allows cool climate with drastic temperature variations between night and day, getting our grapes get a balance between structure, color and acidity and splendid scent ... summarizing a wine with elegance.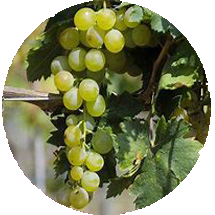 MOSCATEL DE ALEJANDRÍA
Also, attached to our latest acquisition, three years ago we planted two hectares of this magnificent variety of whites.
It is a traditional Mediterranean variety, which requires sun and the influence of the sea. It is a not very vigorous variety, with an upright habit. It is resistant to drought but has a very low yield.
With this variety of grape, we make dry and sweet white wines. These wines are very aromatic, with elegant and floral aromas.
Currently we use this grape combined with the Macabeo to produce a fresh and acid wine, but at the same time with the characteristic sweetness of the Moscatel grape.
MACABEO
It is our variety of white grape. It is a very frost resistant grape with large and compact clusters, thin skin, and a golden color. With this variety we make a light wines with delicate aromas and pale-yellow color with green tones and hints of green fruits that make our white wine a full-bodied wine... just right to enjoy at any time, not too strong, not too smooth.