The scores of our wines for the Peñín Guide 2020 have been revealed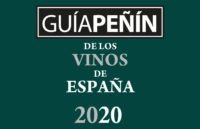 The prestigious publication
Guía Peñín 2020
has already been published and we can now know the scores awarded to our wines for this year's edition. La Guía Peñín se trata, sin duda, de la guía de referencia de vinos españoles más completa que existe y cuenta con más de 25 años de historia y medio millón de ejemplares vendidos, que hacen de ella un lugar imprescindible para que se vea reflejada la calidad de los vinos de cualquier bodega que se precie. Es por ello que nos enorgullece anunciar que los seis vinos que presentamos este año han sido incluidos en la publicación consiguiendo unas muy buenas puntuaciones que han variado muy poco entre ellas, encontrándose todas entre los 86 y los 87 puntos.
Comenzaremos con los vinos que han sido puntuados por la guía con 86 puntos. El
Senda de las Rochas Bobal 2016
ha sido definido como un vino tinto con un color cereza intenso, un aroma a fruta madura y hierbas secas, especiado y azufrado, y un sabor también especiado y con reminiscencias a taninos maduros. El
Mizaran Blanco 2018
ha sido el único vino blanco que hemos decidido incluir en la guía, que lo ha clasificado como un vino agradable y fresco (es por eso por lo que creemos que es un vino perfecto para disfrutarlo en verano), además de aromático y floral. El
Senda de las Rochas Bobal 2014
ha recibido la misma puntuación que el otro vino de su línea teniendo para el jurado un color cereza oscuro con el borde granate, un aroma a fruta confitada y tabaco, que también recuerda al de una ebanistería, y que lo ha definido en boca de la misma manera que al Senda de las Rochas Bobal 2016, especiado con taninos maduros. Además, con esta misma puntuación podemos encontrar al
Mizaran Tempranillo 2014
, un vino crianza que ha dejado al jurado unas sensaciones tanto de color como en nariz y boca, muy similares a las de los dos tintos nombrados anteriormente. Por otro lado, hablaremos de nuestros vinos puntuados con 87 puntos con
La Sima 2018
, our young red wine, which has been defined by the tasters as fruity, herbal, fresh, tasty and correct, and we will continue with the
Senda de las Rochas Crianza 2010
(que ha conseguido la puntuación más alta dentro de la línea Senda de las Rochas), un tinto elaborado con uva de variedad tempranillo en el que los expertos han apreciado un color cereza oscuro con borde granate y del cual han valorado su aroma a fruta al licor, además de ebanistería y tabaco, y su sensación en boca a especias con unos cuidados matices de reducción. Y vosotros, después de leer las opiniones de los expertos ¿Qué vino os animaríais a probar? Y si ya los habéis probado ¿Estáis de acuerdo con las conclusiones del jurado?